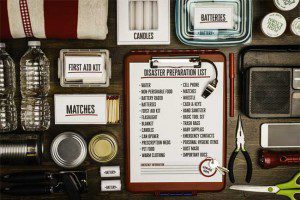 There are two strategies for being prepared for storms and other emergencies – one is always having the supplies on hand you may need and the other is scrabbling to find them once you know a storm is bearing down on you. Obviously the first one is the most ideal, particularly if you hate fighting with someone over the last bottle of water or can of beans. However, there is another unique severe storm preparation strategy for getting the food and beverages you'll need. Instead of braving the crowds at the large grocery store, head to one of the local convenience stores instead.
For some reason, most people forget about these, which works in your favor because you can shop without the craziness. While the stock they have on hand is limited compared to a larger store, they often get overlooked, so you'll often find the basics you need. Today's convenience stores have more than just candy and soda. You should be able to find a nice variety of non-perishable options to carry you over should the power go out, plus you can grab ice for your cooler to keep refrigerated food and beverages a few extra days.
You'll find much of the food and beverages you need at the Cubbard Express location near you in Hickory, North Carolina and the surrounding communities. You can also expand your preparations by drawing out some cash from our automated teller machine, filling your vehicle's gas tank in case you must evacuate, and grabbing a lottery ticket just for the fun of it. Whether you are last-minute preparing or just want to shop in a less crazy environment, we're confident you'll love shopping here!